To give you a better idea of what a Tantra massage is like, below is a detailed description of what happens when you visit the Tantra Temple.
First of all, before you come to us, please let us know if you would like a male or female masseuse when you make your appointment (which you can do by phone or email). As men are only massaged by female masseuses, the decision is not theirs to make 🙂 As a woman, you can choose whether you prefer a male or female masseuse, depending on which gender you feel is best able to help you unblock your blocks and who you feel you can really open up to. . 
ARRIVAL, CONVERSATION, REMEMBER, IT'S ALL ABOUT YOU!
Once you arrive, you will have the opportunity to talk to your masseur before the massage: we can explain verbally what will happen, what you can expect during the massage, and go over any details that interest you.
If you have any requests, please let us know without hesitation. If you have any questions about the massage, please feel free to ask. Remember, it's all about YOU, so you don't have to keep anything to yourself or conform to anything. That goes for the conversation as much as the massage itself..
TAKING A SHOWER – START OF MASSAGE
After the discussion, when you are ready for the massage, you can shower (towels and shower gel are provided) and comfortably lie down on the mat in the massage room, if you feel like it, naked. We masseuses wear underwear during the massage, helping our skin and heart to connect as directly as possible with yours.
(Anyone who practices yoga or energy healing knows that the skin is the organ connected to the heart energy – and, perhaps not so coincidentally, the largest organ in the human body.)
The massage is done with oil, we use all-natural, quality oils that contain no added chemicals, so they are sure not to irritate your skin.
During the massage we massage your whole body, using firm, strong movements alternating with gentle strokes. The treatment releases tension that prevents the free flow of energy, relaxing you and at the same time stimulating and awakening sexual energies, so that they are not concentrated on the genitals but spread all over your body. In this way, you can experience the true sensuality of your being, its subtle orgasmic nature.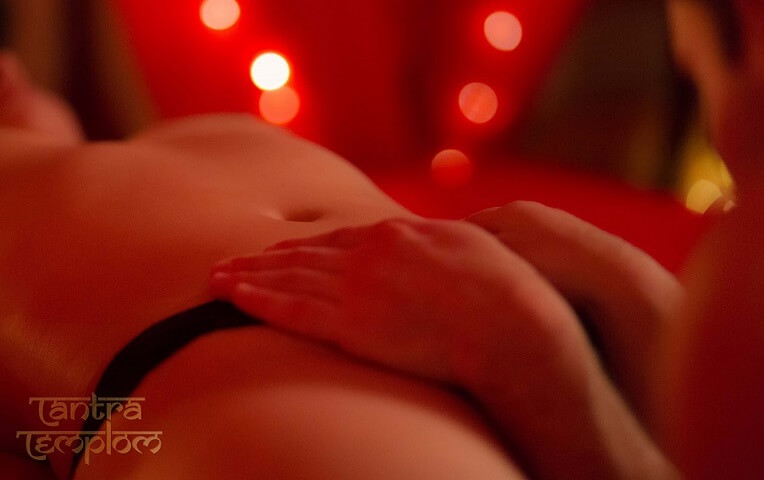 Because for men, touching the genitals focuses too much energy in this area, and for this reason
in their case, lingam massage (lingam: the Sanskrit name for penis) is not part of the massage. Although as a man you may think that you can't experience a state of ecstasy in this case, we encourage you to be open to new experiences. This can allow you to experience a more penetrating, deeper, more fulfilling state of inner harmony, rather than the usual orgasm that is focused on one area, intense but quickly fading and often leaves you with a feeling of emptiness.
WOMEN TANTRIC MASSAGE, YOGI MASSAGE
Since female orgasmic behavior (unless an "incorrect" pattern has developed) is not a loss of energy, but rather a replenishment of energy, massage for our female guests includes yoni yoni: the Sanskrit name for vagina)
Of course, if you're not ready for such a deep intimate opening or your current condition doesn't call for it, we'll simply massage the rest of your body for a longer period of time instead of the yoni massage. Feel free to let us know at any time what you would like
what you would prefer, what you would like to experience more deeply or what you would like to stop: the massage is for you, so we will tailor it to make you feel safe and loved, a place where you can open up and give yourself.
MASSAGE DURATION – RECOMMENDATION AT THE END OF THE MASSAGE
For men the massage lasts about one and a half hours, for women (because of the yoni massage) about two hours. After the massage, you can discuss your experience with your masseuse; if you have any questions
If you have any questions about what you have experienced during the massage, feel free to ask us, we will try to answer them all.
We recommend that you do not take a shower immediately after the massage, it is good if the energetic state created is not
"washed down" instead let it affect you as long as possible and as strongly as possible.
Therefore, we recommend that you make an appointment with us so that you do not have to rush after the massage, so that you do not have to immediately return your attention to another activity.
Take your time to let the new experiences settle in and become part of your being,
liberating, enriching, fulfilling.
WONDER AND GRACE, THANKS TO YOU!
Every time, it is a miracle and a grace for us, as masseurs, to be part of this process, to contribute to a new world opening up and unfolding for you. We welcome you on this magical journey.